Overseas medical mission

Keimyung University Dongsan Medical Center (DSMC) was first founded in 1899 by Woodbridge O. Johnson, a missionary who was sent by the US Presbyterian Church, as a small Western clinic named 'Jaejungwon' in the straw-roofed house located on the site of Jaeil Church in Daegu, introducing Western medicine for the first time in Daegu-Gyeongbuk Region. Based on its founding philosophy – treatment, education, research, missionary service – DSMC runs a medical school, nursing school, Daegu Dongsan Hospital, Gyeongju Dongsan Hospital, and graduate school of medical management and 26 clinical divisions where over 1,900 people are working as staff. Medical mission is the hospital's most notable achievement in its history, and is based on Dongsan Medical Missionary Society to which the whole staff belong as members. DMMS is an evangelical group consisting of the entire DSMC staff founded in 1921 when the second hospital director Dr. Fletcher and 26 staff members joined as members, providing missionary service in and outside Korea. In 1996, it was incorporated as the current foundation, which gradually developed and expanded its membership to 1,900 members, becoming one of the largest volunteer groups in Korea and increasing in diversity and scale of the medical volunteer projects. Currently, the entire staff, over 1,900 people, are members of the society, which, from the beginning, has collected 1% of the members' salary (320million KRW per year) and receives donation from philanthropists to fund the service. For the purpose of offering medical volunteer based on Christianity, DMMS visits Almaty Dongsan Hospital every year for medical volunteering, as well as providing medical mission and support in Dongsan Special Clinic in Nepal, CHDP-K Hospital in Bangladesh, Kyrgyzstan, Yanbian, China, and Ethiopia.
Purpose of medical mission
The purpose of DMMS' medical mission is to spread Jesus' love that was shared by the US Presbyterian Church 110 years ago and practice the mission through medical volunteering.
DSMC aims to establish its identity as a Christian hospital, serve Korean and local people abroad, share Christian love, and promote Dongsan Hospital through overseas medical mission.
For development and management of Almaty Dongsan Hospital, which was built as a base for the hospital's missionary activities, DSMC will review overall issues and make specific development plans.
The entire staff at DSMC share the vision of medical mission and try to discover medical missionaries through local missionary training.
Almaty Dongsan Hospital, Kazakhstan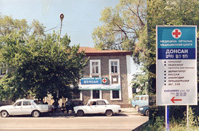 DSMC opened Almaty Dongsan Hospital at the children's palace in Almaty, Kazakhstan, on July 24, 1995, and has been providing free medical service to the local and ethnic Korean people. When the 3rd overseas medical mission group visited the hospital on July 17, 1997, it celebrated relocating the clinic to the 3rd floor of a commercial building across the Nikolsky Market and, from August 14 to August 22, 1998, the fourth medical mission group conducted medical volunteering. In November 2000, the hospital was moved to its own 2-story building (48002 Almaty Raimbeka Street 57 (Baiseva 35)) where it is providing medical volunteer service.
At Almaty Dongsan Hospital, 17 staff members including 6 doctors and 2 nurses in six departments including internal medicine, surgery, and ob/gyn are working together and spreading gospel through their hospital ministry. Also, to utilize Almaty Dongsan Hospital as the base of medical tourism from Kazakhstan, DSMC in association with Daegu City opened 'Daegu Medical Service Almaty Center' which will act as a foundation for Daegu to grow as an international medical city by providing medical services in Central Asia and promoting 'the Medi-City Daegu.'
Nepal Dongsan Special Clinic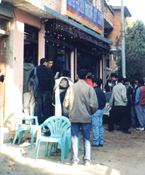 Considering the prevalence of dermatological diseases in Nepal, DSMC opened 'Dongsan Special Clinic,' a dermatological clinic, in Kathmandu (New Baneshwor – 34 GPO Box 7134) in 2002, where dermatologist, public health specialist, pharmacist, nurse, and administrator are working to treat people with various dermatological diseases such as leprosy, infectious skin disease, and endemic disease. Also, the medical volunteer team frequently provide medical volunteer in the hospital.
Yianbian, China, and Philippines
To spread the love of Jesus in China and North Korea, in 2004, Dongsan Joyful Hand (formerly Yianbian Love Group, president Bae Okseok) was launched, based on Vision Trip organized by the medical and nursing schools since 2002, which practiced Christian love in Yianbian and send food to North Korean children. Dongsan Joyful Hand provides surgery, medical service, and music volunteering, while sharing vision through mission and exchange between university students. In addition, since 2007, the group has been organizing charity concert for children in Yianbian and Philippines, and used the funds to help ethnic Koreans in Yianbian and children in Philippines, as well as building a church in Philippines in December, 2016, for over 300 local children who are picking up garbage to make a living.
CHDP-K Hospital, Bangladesh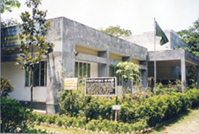 For gospel mission in Bangladesh, where it is difficult to benefit from modern medicine, seven Christian hospitals organized KOMMS, a foreign medical mission society, in November 1983, along with PS-USA. In November 1992, the group opened CHDP-K hospital in Karamtola region. DMMS donates 1,890,000 KRW every month to help CHDP-K, which is providing various medical projects and local medical programs in a 2-story building 26km away from Dacca, by transferring CHSB to FOB, in order to improve medical environment in the country and, at the same time, spreading Christian love.
As the operation committee, two Americans, two Koreans, and two Bangladesh people from Church of Bangladesh are working as directors, along with 1 project manager, making all decisions related to the projects and hospital management. PCUSA is mainly engaged with local medical and development mission while KOMMS is participating in hospital program management.
Disaster and Emergency Aid

DSMC organizes labor or medical volunteer groups or raises funds for local people who suffer from flood, drought, and other disasters, sharing love with local and global people. In 2006, DSMC and Korea Food for the Hungry International signed a medical cooperation agreement for active cooperation for various local and overseas aids and supply of workforce, medical devices, and supplies. The group sent aid to Philippines after Manila landslide in 2006, and to Haiti in 2010.
Invitation of foreign patients

DSMC invites foreign patients who cannot be treated by local medical technology to South Korea and offer free surgery. So far, ethnic Koreans from Kazakhstan, aboriginal people in Borneo Island, Malaysia, Chinese patient, Fijian patient with heart disease, and Philippine patient recovered their health with the help of DSMC.