Introducing Western Medicine in Daegu-Gyeongbuk

Christianity was first introduced in Daegu in April 1893 when the US Presbyterian missionary William B. Baird (1862-1931), along with preacher Se Gyeongjo, went on a missionary trip in the northern Gyeongsangdo and spread gospel. The following year, the missionary team visited Daegu again and decided it was an important place as a strategic base, before they opened Nammunan Church (currently Jaeil Church).
Meanwhile, during this period, the American missionary Dr. Woodbridge O. Johnson (1869 – 1951) was on medical mission under the title 'American Pharmacy,' and in 1899, he opened 'Jaejungwon' inside Jaeil Church to provide medical service. The pharmacy and Jaejungwon became Keimyung University DSMC later. Initially founded as Jaejungwon, DSMC marked the beginning of modern medicine in Daegu as well as social, economic, cultural, and educational modernization in the region.
The 1st director, Missionary Johnson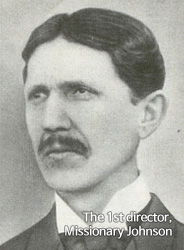 Dr. Johnson, the missionary who founded Jaejungwon, was the first medical missionary dispatched by the US Presbyterian Church to Daegu, and acquired various Korean names such as Jang Incha, Jang Euisa, and Jang Orin. From 1989 to 1910, he served as the first director of Jaejungwon. After receiving his treatment, more and more patients became Christian: among them were a former Buddhist monk, the first patient who received eye surgery, and well-known thief. On June 2, 1909, Missionary Johnson successfully performed Cesarean section and saved the mother and baby. This incidence quickly made him famous. After his leprosy treatment became widely known, leprosy patients constantly came to the hospital. Johnson decided to use one of the hanoks (traditional Korean houses) only for leprosy treatment, as part of his practice of Christian love.
Between 1908 and 1909, Missionary Johnson selected 7 young Korean men who were working at Jaejungwon and taught them medicine, which became an important even in the history of Daegu and modern medicine in Korea. In addition, the apple tree he ordered from the US and planted in the backyard of his house in Daegu has left a new tree that is still preserved in DSMC. This tree, which made Daegu a city of apples, has been designated as Daegu Nurse Tree no.1.
American Pharmacy and Jaejungwon
Missionary Johnson came to Daegu riding a pony, on December 25, 1897. Two years later, in 1899, he turned a small cottage that used to be occupied by servants into what he named 'American Pharmacy' and began to distribute medicine to local people. This was the first modern medical service provided in Daegu. Subsequently, he ordered medicine from the US and began to offer treatment full-time, under the name 'Jaejungwon.'
Jaejungwon was devided into three sections: a small doctor's office, large room which was divided into pharmacy ad operation room, and a warehouse that was smaller than the other rooms. From the opening until the summer the following year, the hospital treated 1,700 patients, 800 of which were new patients, 50 surgery recipients, and 80 house-call patients. Between 1901 and 1902, the total number of patients reached 2,000. At that time, Korea was in the midst of chaos as its sovereignty was threatened by the Western Powers and Japanese. The number of patients with leprosy, pneumonia, malaria, and parasites rose rapidly. And Jaejungwon tried to share the pain and hardship and grow with Korean people, through leprosy patient aid program, endemic treatment, smallpox vaccination, and healthcare awareness campaign.

Dire Environment of Jaejungwon
Jaejungwon, being located inside a 7m embankment in Eupseong, Daegu, had poor ventilation. And the low, narrow ceiling meant the indoor temperature rose unbearably high during the summer, to an extent the doctors were concerned of their own health. Missionary Johnson said, "It is so small and stifling that, during summer, doctors have to risk their own health in order to work here." The missionaries summarized the hardship at Jaejungwon as '3S.'
The first S was smell. In Daegu, the stream from Apsan Mountain flew into Dalseocheon, which continues to Gyesandong and Dongsandong, causing flood during the rainy season every year. Garbage moved from the upstream would overflow in front of the missionary house, producing such foul smell. The second S was smoke. At that time, Koreans used to burn wood to cook, so, every morning and evening, the missionary district surrounded by the local fortress of Daegu was filled with smoke. The third S, sound, was also challenging for the missionaries, as the dogs barked, women beat the laundry as a way to straighten the clothes, and, especially, shaman performed rituals all night long.
Keimyung University Dongsan Medical Center
From 1906, Missionary Johnson relocated Jaejungwon to its current address in Dongsandong. And then, the second director of the hospital, Missionary Fletcher changed the name to Dongsan Hospital. Despite the hardship and challenges during Japanese Occupation, Dongsan Hospital grew to become a general hospital, improving its scientific diagnosis and treatment methods for the increasing number of patients. In addition to conducting children's welfare campaign, the hospital opened a nurse training program in 1924, which has eventually turned into the current nursing school at Keimyung University, contributing to nursing education in South Korea.
Since the Korean War, Dongsan Hospital opened Korea's first children's hospital and offered free treatment for war orphans, becoming widely known across the country for prescribing drugs that were hard to find in Korea at that time. The 7th director, Missionary Moffett served for 46 years at the hospital, expanding the institution as well as introducing modern medical equipment. Indeed, during the 1960s and 1970s, the hospital saw remarkable improvement in its medical competence. In 1980, Dongsan Hospital was merged with Keimyung University, a top Christian educational institution in the region, and opened a medical school, before changing its name to Keimyung University Dongsan Medical Center (DSMC) in 1982. As a result, it became one of the top medical institutions in South Korea that offers treatment, mission, and even education and research. Currently, DSMC is building a new patient-oriented hospital with 20 story and 5 underground floors (with 1,033 beds), modeling after the top 8 hospitals in the US including Johns Hopkins University Hospital. This new, environmentally-friendly hospital, which is to be completed by 2018, was designed based on JCI certificate (for the facility), and state-of-art intelligent system, as a top medical institution in Daegu, the 'Medi City.'